YUMMY YUMMY
FEAST YOUR EYES
STAY FULL ON THE RIVER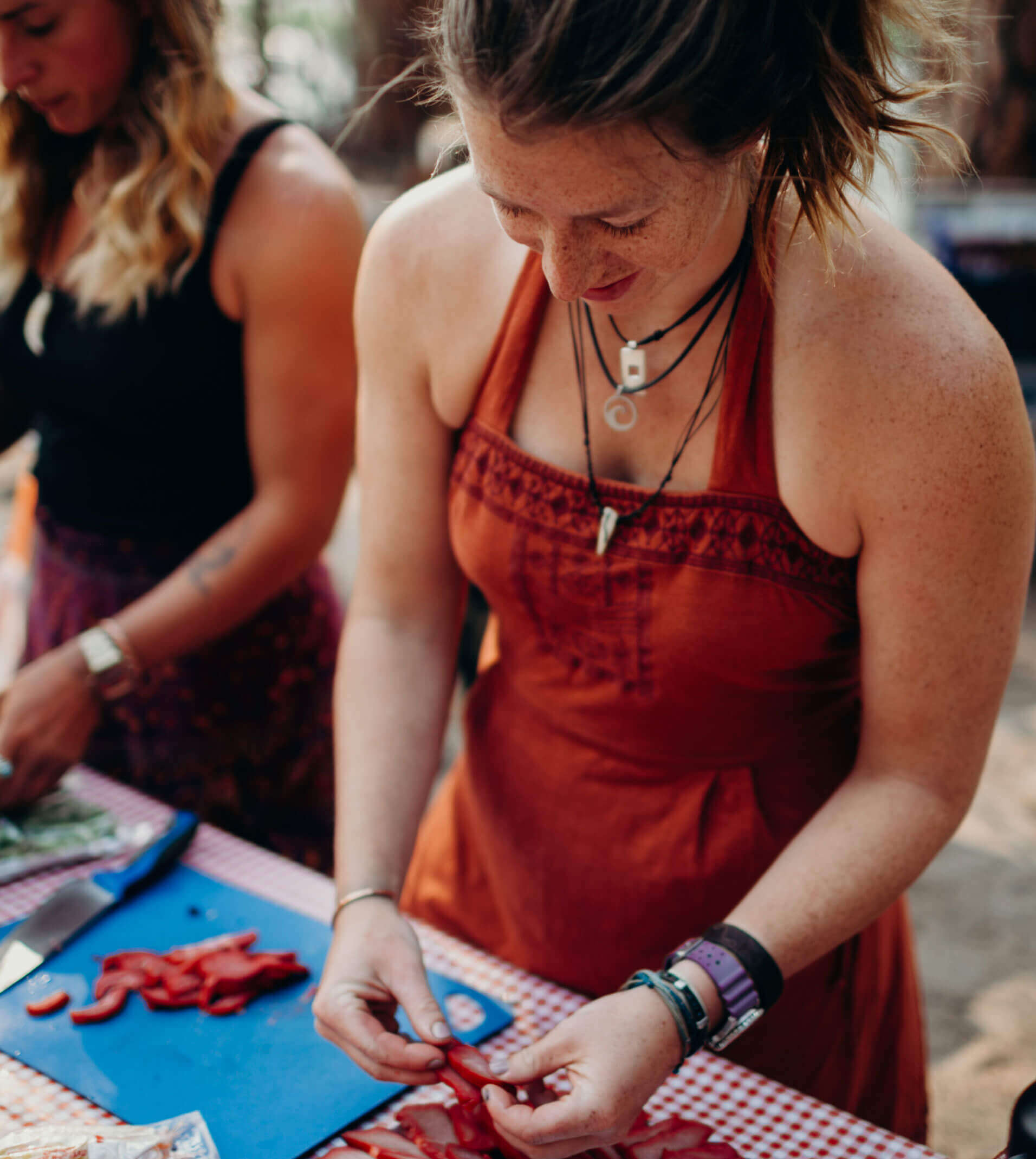 RIVERSIDE FINE DINING
Just because you're out in the middle the of the wilderness doesn't mean you have to eat like it. On the Middle Fork, we eat gourmet all the way. Soon after you get to camp, you'll be greeted with a delicious appetizer. Then the time is yours to hike, nap, fish, or hang around the campsite as our guides cook you a tasty meal, worthy of a 5-star restaurant.
Our recipes are influenced by Tim Filgate and cooked to perfection. Think you can't make a lot in the wilderness? Think again! From the best cedar plank salmon to zesty tacos, salad dressings and marinades made from scratch, and Dutch oven desserts, you won't be disappointed.
FEATURED
RECIPE
COCONUT BASIL PEANUT SHRIMP
INGREDIENTS
2-3 T canola oil
10-12 chopped garlic cloves
1-piece ground or chopped fine ginger
6 cans Taste of Thai coconut milk
1 Lg container or 6 envelopes Taste of Thai peanut sauce mix
1 bunch fresh basil chopped
1/4 cup brown sugar
1/4 cup fish sauce or salt to taste
1/4 to 1/2 cup lime juice
1 and 1/2 bags TAIL OFF frozen shrimp - remove tails
DIRECTIONS
Serves: an army (30)
Sauté garlic and ginger in 12″ dutch oven with canola oil for 30 sec. to 1 min.
Add coconut milk, peanut sauce mix, brown sugar and fish sauce
Bring to a low simmer and leave uncovered
Stir frequently
5 min. before service add shrimp, basil, and lime juice
Add fish sauce or salt to taste
Serve over rice with edamame and broccoli.
Note: Also delicious with chicken.
THAT'S WHAT THEY SAID
It was a fabulous life-experience with our family. This is our 3rd trip on the river but our first with MFRT. Everything was tops!! Safety of guests, getting the group to come together as a social entity, food, service, activities....all of it was fantastic. Worth every penny! Thank you!!!
Best trip. Better than I ever imagined! The crew was experienced and knowledgeable about the river. Food was terrific. Grant was an incredible host.
BEST trip EVER! Been on the trip 3 times and the guides, food, accommodations, wildlife always seem to get better each time! Highly recommend this trip - lifetime experience!